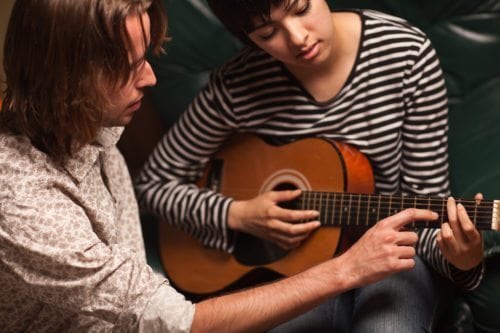 At Performance Play Music, we believe that learning to play an instrument through one-on-one, face-to-face class time is unquestionably the best and fastest way to master an instrument. However, there are some situations where a 2 person semi private lesson can be just as effective. Performance Play offers semi private lessons for both guitar and piano, and this is limited to no more than 2 children in the same family.
We strongly recommend that students participating in our youth or adult Performance Track also take private or semi private music lessons, so they can benefit from individualized instruction.
All our lessons are offered at our Music School in Aurora, CO. Semi private lessons are either 30, 45, or 60 minutes each week and are priced in the following way :
30 minute weekly lessons – $185 per month (2 students)
45 minute weekly lessons – $230 per month (2 students)
60 minute weekly lessons – $285 per month (2 students)
To request lessons, please call or text 720-778-9599 or complete one of the links below.