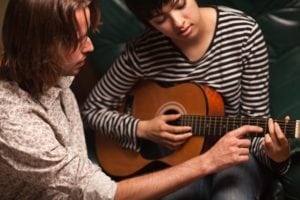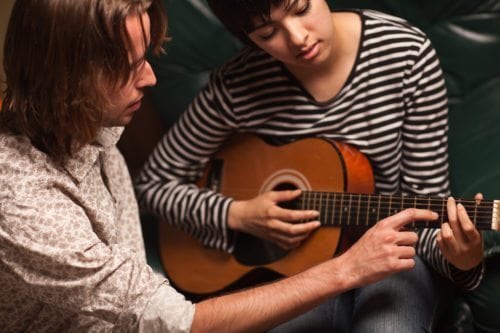 Performance Play Music School offers lessons in acoustic, electric, and bass guitar at our location in Saddle Rock Village in Aurora, CO. We teach students of all ages, and we offer private or semi-private instruction formats.
Private guitar lessons are clearly the most effective way for students to master the instrument. From beginner guitar lessons to more advanced instructions, each lesson is adapted to your skill level. One on one instruction from one of our qualified guitar instructors will allow a student to learn chords, scales and other technical skills, such as pull-offs and hammer-ons. Students will have the option of learning standard notation as well as tablature.
Performance Play also offers semi-private guitar lessons for students in the same family who want the specialized instruction, but also want to learn with a partner.
---
Acoustic Guitar Lessons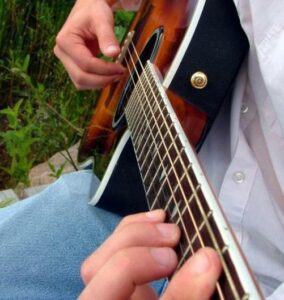 The acoustic guitar is a staple for many popular musical genres, including country, jazz, blues, classical, folk, bluegrass, and singer/songwriter. Learn this instrument with private music instruction at Performance Play Music School.
Students will learn chords, strumming patters, and finger picking techniques. They will also learn to read notes, chords, and tabs so they can start playing their favorite songs. Advanced students will learn techniques like hammer-ons, pull-offs, advanced finger picking, and a deeper understanding of the fretboard, music theory, and arpeggios.
Our adult and youth music performance classes provide acoustic guitar students the confidence to play their instrument in a fun atmosphere in a real band.
---
Electric Guitar Lessons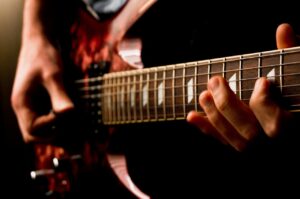 From powerful power chords to brilliant solos, the electric guitar is a popular instrument that can take time to master. Rely on our helpful music instructors to assist you as you learn the electric guitar.
Through private electric guitar lessons, we help beginners and advanced students play the music they love on their electric guitar. Students learn chords and notes, the fretboard, and popular strumming and picking patterns. Advanced students can work on the next great solo by strengthening their improvisational skills.
Take what you learn in your private lessons by performing with a real rock band. Our music performance classes are the perfect way for adults and youth to gain real-world experience of playing your favorite music with other instruments.
---
Bass Guitar Lessons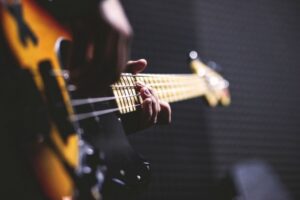 Bass guitarists provide the driving deep bass line in some of the greatest bands. Whether you want to play jazz, blues, or rock, learn the skills to master the bass guitar from the skilled instructors at Performance Play Music School.
We offer instruction for beginners who are picking up a guitar for the first time all the way to advanced students who are working on music theory and techniques. In addition to your private lesson, sign up for a youth or adult music performance class and put your skills to use in a real life rock band!
---
If you are looking for guitar lessons near Denver, CO, turn to Performance Play Music School. Call or Text us today at 720-778-9599 or use our website to sign up for your first guitar lesson.