Observe a Class
Start Playing Now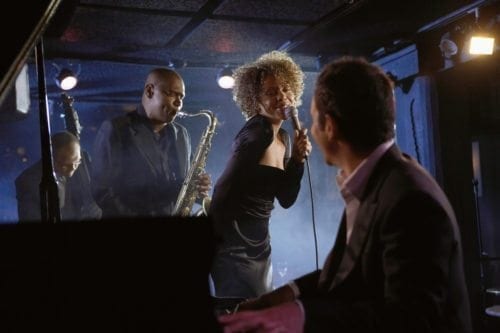 Who should take this class?
Jazz is renowned as one of the most technical and complex forms of music to learn. It involves being proficient enough at one's instrument to improvise freely over a vast array of changing chords. Our Monday jazz sessions are for players that want a fun and educational environment to begin playing the standards. Our top-notch instructors offer expert advise and provide different versions of lead sheets from the "Real Book(s)" to accomodate all players.

Goal of the class: Learn how to play a variety of jazz-style chords, and the basics of how to improvise a solo. Play jazz standards from lead sheets, mastering solos and comping under soloists. Prepare songs for semi-annual recording, plus a live performance at a real music venue.

Class can include: Guitarists, Bassists, Drummers, keyboardists, Vocalists, Horn Players, Stringed Instrument Players

Gear needed for class: Bring your guitar, bass, or horn. We provide drums, keyboards, and microphone setups.

Age Group: 18+
Frequency per week: Once a week for 2 hours
Times offered: Monday 7-9pm
Min/Max Class Size: 2-12
Levels Accepted: Beginners and Intermediates
Class Duration: 6 months
Tuition Per Month: $95