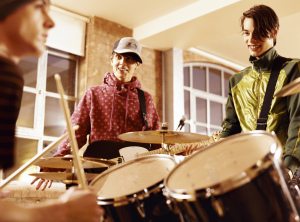 Performance Play Music School offers drum lessons near Denver, CO at our location in Aurora, CO. Students of all ages and skill levels can learn drums from experienced drum instructors, giving instructions in private and group lesson formats.
Private drum lessons provide the student with one-on-one instruction so they can master the drums. In private lessons, our qualified drum teachers adapt the instruction to match the student's skill level, ability, and desired outcome. Students learn basic and advanced rhythm techniques, using the whole drum kit, and reading sheet music.
Ready to try out your drum skills on the stage? With our youth and adult performance track programs, students get real-world experience in performing with a rock band. You'll play with students at a similar skill level who are taking guitar, vocal, and piano lessons.
Schedule a drum lesson for your child by giving us a call or text at 720-778-9599 or using our online forms below: